Best Mattress Topper on Amazon
Getting good sleep is essential for your overall physical and mental health, and your mattress plays a big role in how much sleep you get each night. If your mattress is too firm or too soft, you might wake up several times during the night or get up in the morning with aches in your neck, back, legs, or shoulders.
If your mattress is uncomfortable and not providing the right kind of support, fixing the problem is one of the best things you can do for your health. However, getting a brand-new mattress can be expensive. A mattress topper is a far more cost-effective and eco-friendly choice. A topper can change the firmness of your mattress so that it's the perfect fit for your comfort and preferred sleeping position.
What Is A Mattress Topper?
A mattress topper sits on top of your mattress and changes the overall feel of the sleeping surface. For example, if you have back pain because your mattress is too soft, you can choose an extra-firm topper for the right level of support. There are also plush mattress toppers featuring down-like filling or memory foam. These soft toppers can get rid of shoulder and back pain that often comes from pressure points.
Benefits of a Mattress Topper
A mattress topper can provide many benefits for your mattress, and we'll give compelling reasons as to why you should already have one in your life. Every bed should have a mattress topper, and here's some reasons why you should invest in one today.
Mattress Protection
Dead skin cells, bacteria, and body sweat are three headaches that plague every mattress. While we sleep, our bodies shed dead skin cells and sweat, and both of these culprits will end up sinking into our mattress, creating a haven for bacteria. By having a mattress topper, you're providing your bed with a protective layer to fight against these three potential problems.
Added Comfort
Perhaps your mattress is a little firmer than you'd like it to be, and the idea of buying a new mattress doesn't quite fit the budget. Adding a topper gives you a cost-effective solution to deal with a hard mattress while adhering to a strict budget.
In addition to adjusting the texture of your mattress, a mattress pad can also have an impact on temperature. For instance, some folks can benefit from a cooling mattress pad for hot flashes. A cooling mattress pad contains special gel and is made with a breathable fabric to help lower the temperature of your mattress and combat your natural body heat. Cooling mattress pads can also be helpful for people who suffer from insomnia or anxiety.
Machine Washable
If you select the right topper, you'll be able to wash your topper from the comfort of your home. With the option to wash your topper—you have a very hygienic solution for keeping the top layer of your mattress clean as it is difficult to clean the mattress itself. Therefore, a mattress topper gives you a way to keep your mattress hygienic.
Extended Mattress Lifespan
The protective layer provided by the mattress topper will also extend the lifespan of your mattress. Furthermore, you can flip your topper over and ensure that you use both sides, allowing the topper itself to last longer. Buying a new mattress can be costly, so it's in your best interest to get as much use out of it as possible.
Additional Health Benefits
A mattress topper can fortify your health by simply placing one on your mattress; this is especially true for individuals who have to deal with nagging allergies. Because you have the option to wash your topper, you can rid yourself of irritants such as dust mites.
Make sure to choose a topper that you can wash at 60°C to ensure that the temperature is high enough to kill the dust mites. Adding a topper to your bed can allow you to enjoy a life free of itchy eyes and an irritated nose.
Best Mattress Toppers On Amazon
There are plenty of different mattress toppers available, from those designed specifically for side sleepers to others that offer firm support. We've researched the market and read mattress topper reviews to find the very best options available.
COMFORT BOOST Mattress Topper
This super-plush, overstuffed pillowtop mattress topper is an excellent choice if you want to make your extra-firm mattress more comfortable. It provides cloud-like softness and the right amount of support for both side sleepers and back sleepers. Square baffle stitching keeps the filling in place for maximum comfort and air circulation.
The COMFORT BOOST mattress topper is 2 inches tall and filled with a high-quality synthetic down alternative. The top cover is made of 400 thread-count cotton, and the bottom side features a thick and extra-durable fabric. The adjustable deep pocket design stretches from 8 inches to 21 inches. This ensures this topper can fit on most mattresses, and the sturdy elastic helps it stay put.
Bottom Line: Designed in the U.S. and made of high-quality materials, this overstuffed mattress topper is an excellent choice if you want a plush layer over a firm or extra-firm mattress.
Linenspa Gel-Infused Memory Foam Mattress Topper
This memory foam topper is made of 100% memory foam and is available in both 2-inch and 3-inch thicknesses. The memory foam is infused with beads of cooling gel, which are designed to capture heat and dissipate it. Because heat retention is an issue with many memory foam toppers, these cooling features make this model a good choice for hot sleepers.
This topper comes at a very affordable price, especially for memory foam. However, it doesn't include a cover of any kind, which makes it hard to keep clean. You can't soak memory foam or place it in the washer. Without a cover, this topper may not last as long as other options that are easier to maintain.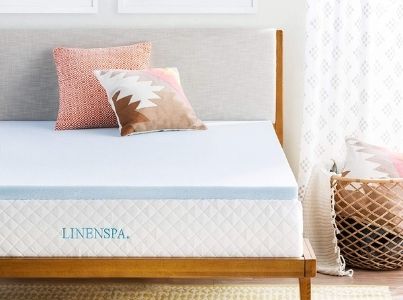 Bottom Line: An affordable memory foam option, this topper incorporates cooling gel beads and pure memory foam, but the lack of a cover makes it hard to keep clean.
Best Price Lavender Infused Polyfoam Mattress Topper
Infused with lavender for a soothing and relaxing scent, this mattress topper is available in three different thicknesses: 2 inches, 3 inches, and 4 inches. A thicker topper will change the feel of your mattress the most, but a thinner style is best if you just want a little extra softness. This topper is made of certified polyfoam, which is generally not as durable as memory foam. However, it tends to sleep cooler.
This polyfoam mattress topper is has a wavy sleeping surface in a classic egg crate design. The hills and valleys promote air circulation for better cooling. This topper doesn't feature a cover, which makes it hard to keep clean. The lack of a cover means this polyfoam topper won't last as long as more expensive models made with memory foam and fabric covers.
Bottom Line: A very affordable price, lavender infusion, and egg carton design make this polyfoam mattress topper a good choice if you want something that's lightweight and aren't concerned about potential cleaning and durability issues.
Sleep Innovations Dual Layer Gel Memory Foam Mattress Topper
This mattress topper has two layers. The bottom layer is 2 inches of certified memory foam, and it's covered by a 2-inch pillowtop layer with synthetic fiber filling. This dual-layer design offers a mix of support and softness, though it might be too tall if placed on a super-thick mattress. The memory foam part doesn't have its own cover, but the pillowtop layer helps protect it from wear and tear.
The memory foam layer is infused with cooling gel, and the machine-washable cover has a soft fabric cover and square baffle stitching. However, with its combined thickness of 4 inches and mix of memory foam and synthetic filling, this topper may not be practical for warm climates or hot sleepers.
Bottom Line: With a 10-year warranty and high-quality materials, this two-layer memory foam mattress topper is a great choice if you are willing to pay more for something that is both supportive and plush.
LUCID Gel Memory Foam Mattress Topper
This memory foam mattress topper is available in both a 2-inch and 3-inch thickness so you can decide how much support you want. It's a single layer of memory foam, but it features a unique contoured design on the top. Rather than the traditional egg carton pattern, the sleeping surface has five different zones, each with a unique pattern. The zones are designed to relieve common pressure points in areas like the neck, shoulders, and lower back.
This mattress topper is infused with cooling gel, and the contoured design offers some natural ventilation. However, it doesn't include a cover, so keeping it clean may be a challenge.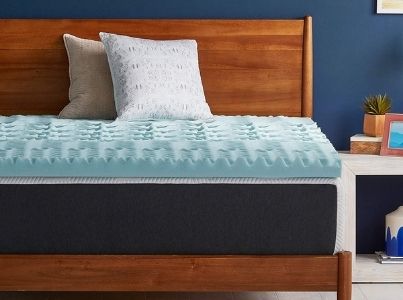 Bottom Line: If you are trying to relieve pressure points from a firm mattress, this contoured memory foam pad could be a great choice with its zoned design, cooling gel, and choice of two different thicknesses.
Oaksys Cooling Pillowtop Mattress Topper
If you don't need the customized support of memory foam or the super-plush feeling of a thick pillowtop style, this affordable mattress topper may be a good choice. It features a breathable cotton cover and natural down-alternative filling. The entire thing is machine-washable, but sun-drying is recommended, which can be time-consuming.
This topper has a deep pocket design that will fit mattresses up to 21 inches tall. The quilted top has a square baffle design and a continuous border section that helps keep all the filling in the proper place. This pillowtop mattress topper is best if you want a little extra softness for your bed, but it's not as supportive as memory foam.
Bottom Line: With its affordable price and pure cotton cover, this pillowtop mattress topper is a good choice to add a plush feeling to a firm mattress, but it's not as soft and fluffy as overstuffed pillowtop styles.
How To Choose The Best Mattress Topper
To choose the best mattress topper, make sure to think about your preferred sleeping position and the problems that you want the topper to address. For example, you might need a topper designed to reduce shoulder pain in side sleepers. Or maybe you just want to add a little plushness to a very firm mattress. Here are some of the top considerations.
Material and Firmness
You should think about what you want your mattress topper to do – are you looking for something to soften a hard mattress or do you need more support? Most memory foam and latex toppers are on the firm side and can provide excellent, comfortable support that cradles your body and helps keep your spine in proper alignment while you sleep.
However, if your mattress is too firm, you might want to consider a mattress topper that's softer. Pillowtop styles that are filled with plush down or synthetic filling can give you that "sleeping on a cloud" feeling. Thick, overstuffed mattress toppers will be more firm than thinner styles.
Thickness
The thicker your mattress topper is, the more it will change the feel of sleeping on your mattress. Most toppers are a few inches thick, though the material makes a difference. For example, a super-thick, overstuffed pillowtop would offer a similar level of support as a typical medium-firm memory foam topper.
If you want to feel your mattress less, choose a thicker topper. This is especially important if you are trying to add some softness to an extra-firm mattress. Remember, however, that a thicker topper will retain more body heat, so it might not be the right option if you are a hot sleeper.
Price
Mattress toppers can range in price depending on the thickness, material, brand, and size. When you are thinking about price, it's good to read reviews and see whether the manufacturer offers a warranty or has a good refund policy.
You can find many high-quality options in the range of $50 to $150. Generally, memory foam tends to be more expensive than polyfoam. Pillowtop styles with a synthetic filling may be more affordable than wool or natural down. Sometimes paying a higher price gives you some convenient features, like a removable cover, stay-in-place straps, and top-quality fabrics.
Density
If we remember physics class, objects with higher densities are stronger than objects with lower densities. This logic is the same with mattress toppers as well. Companies rate memory foam mattress toppers based on their levels of density. Your more supportive mattress toppers have a higher density. Here are the ranges that you'll typically see when you make a purchase:
Low: A low-density memory foam rating signifies that the foam weighs three pounds or less for every square foot. It has the shortest lifespan and doesn't offer much support for the average person.
Medium: Memory foam that weighs four to five pounds for every square foot is medium density. This density is usually the best for most people as it offers support without being too firm.
High: A high-density memory foam mattress topper weighs over six pounds for every square foot. It has a very long lifespan, and it's very firm. This topper might be too firm for many people, so be sure you want your mattress extremely firm before you buy.
Types Of Mattress Toppers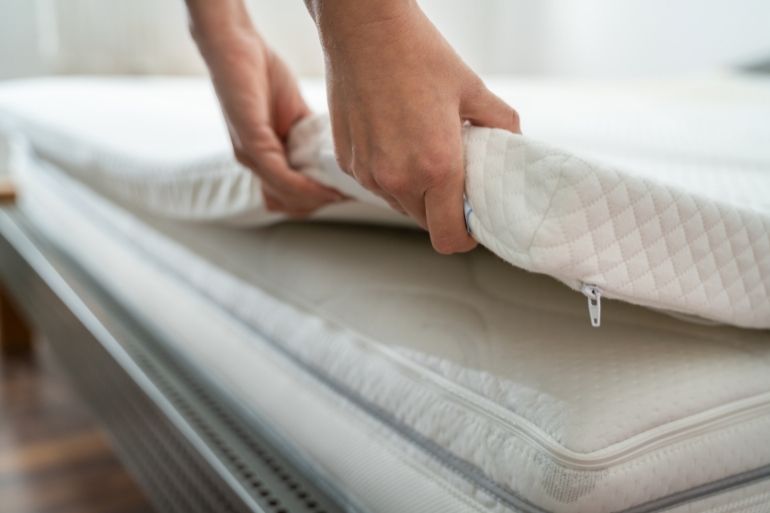 There are several different types of mattress toppers that offer different benefits. For example, a firm memory foam topper may be best for back pain, but you might want a pillowtop style to address neck or shoulder aches from a poor sleeping posture.
Memory Foam
Memory foam was originally designed to help keep astronauts safe, but it has many other uses now, including mattresses, pillows, and mattress toppers. Memory foam adapts to pressure and heat, so when you lie on it, the material conforms to your unique shape. This creates a "hug-like" feeling that many people find extremely comfortable.
Memory foam creates customized support, which is very helpful for people who experience aches and pains in the morning. Because the material conforms to your body's curves, it helps your spine stay in the correct alignment but also prevents the pressure points that some extra-firm mattresses cause.
Pillowtop
As the name implies, this style of mattress topper is like a pillow. Most of these toppers are filled with a synthetic down alternative, but you can find options with real down filling as well. There are also some toppers that contain wool or natural fiber filling.
Pillowtop mattress toppers tend to create a very plush feeling. They are a good choice if you have a mattress that is too firm for comfort. An extra thick mattress topper can also reduce painful pressure points, which are a common complaint from side sleepers. If you tend to sleep hot, look for a style that has a cover of breathable material, such as cotton or bamboo.
Latex
Latex is made from naturally occurring rubbery materials. It's similar to memory foam in providing a hug-like feeling, but latex tends to be a bit more responsive. Some people prefer this level of "bounciness" because it feels more like a traditional mattress with springs. It can also be a good choice for people who tend to change positions a lot while sleeping.
The biggest downside of latex is that some people are allergic to it. A fabric cover, blanket, or sheet isn't enough to prevent allergic reactions. If you are allergic to latex, you should choose a different type of topper.
Polyfoam
Polyfoam is an alternative to memory foam. It tends to be softer, less dense, and more affordable. Because it isn't as dense as memory foam, polyfoam offers less support. However, it may be more breathable, making it a good choice for hot sleepers or people who live in very warm climates.
Feathers
Some mattress toppers have a feather filling and feel incredibly soft when you lay down. The problem with these types of toppers is that they don't offer much support. Those who need a bit of firmness when they sleep for back issues or just because of preference won't want to select a feather mattress topper.
Another drawback of this style is that you must fluff the feathers every night to help decompress them. You can't wash them usually, as they should get dry cleaned, and the feather tips can push through the fabric and poke you when you lay down.
Lastly, the feathers might contain allergens, and they aren't ideal for a cooler material, especially in warm spring and summer months.
Poly-Fiber
Poly-fiber is one of the least expensive mattress toppers that you can purchase. It's also the least comfortable and offers the least support. The poly-blend fiberfill topper contains clusters inside that won't feel very soft when you're laying on the mattress.
These kinds of toppers also won't last you for very long. The filling gets compressed relatively quickly compared to a memory foam or pillow top filling. The poly-fiber topper isn't a cooling material, as it traps hot air between itself and the mattress.
Commonly Asked Questions About Mattress Toppers
Still not sure how to choose the best mattress topper? Read on for answers to the most common questions.
Are mattress toppers worth it?
If you aren't satisfied with the feel and support of your mattress, a topper can be an excellent addition. It's far less expensive than replacing your mattress, and there are several different styles and materials to choose from. If you end up not liking the topper, it's easier to return or replace than a mattress.
How long do mattress toppers last?
The longevity of a mattress topper will vary depending on what it's made of and how much you use it. Most memory foam, latex, and down or down-alternative options will last several years with proper care. Polyfoam tends to be less durable.
What are mattress toppers made out of?
You can find mattress toppers made of memory foam, latex, or polyfoam. There are also pillow-top styles that are filled with wool, natural fiber, down, or a synthetic alternative.
What's the difference between a mattress pad and a mattress topper?
Most mattress pads are designed to protect the mattress from wear and tear and moisture damage. They are fairly thin, like a sheet or blanket. A mattress topper is designed to change the feel of the mattress. Toppers can add support or make the sleeping surface softer.
How to keep a mattress topper from sliding?
Most mattress toppers have elastic around the edge (like a fitted sheet) to help them stay in place on your mattress. Some styles also have straps that allow you to secure the topper in place.
What's the purpose of a mattress topper?
A mattress topper is designed to change your bed's sleeping surface. They can soften an extra-firm mattress or add support to a bed that is too soft.
Do you need both a mattress topper and a mattress pad?
Generally, no. A mattress topper covers your entire mattress, so it provides a similar level of protection as a traditional mattress pad.
What thickness of mattress topper should I get?
The answer depends on your personal comfort preferences. Thicker toppers will change the feel of the sleeping surface more than thinner ones. You may need to invest in "deep pocket" fitted sheets if you place a very thick topper on a tall mattress.
How do you clean a mattress topper?
It's always best to follow the manufacturer's instructions for cleaning your mattress topper. Many styles have a removable cover that can go in the washing machine. It's never a good idea to soak memory foam or polyfoam.