Best Wedge Pillows for Side Sleepers
The pillow you sleep on is just as important as your mattress in terms of affecting your sleep quality. If you're a side sleeper, it's especially important to get a pillow that supports your upper body properly to keep your spine in the correct alignment. Many people find that wedge pillows provide the most comfort and health benefits.
How Does a Wedge Pillow Help Side Sleepers?
Sleeping on a wedge pillow can provide many benefits, including relief from snoring, acid reflux, and sleep apnea. We've researched the available options to find the best wedge pillow for side sleepers.
How We Chose the Best Wedge Pillows for Side Sleepers
To make our recommended list of wedge pillows for side sleepers, we considered a lot of factors. We researched materials, cost, construction, and shape options. We tried to find manufacturers with a good reputation for quality products.
We also thought about some things that apply specifically to wedge pillows and side sleepers. For example, we looked for some shorter and less-firm pillows, because those tend to be more comfortable for people who sleep on their sides. We wanted to find some adjustable options as well and some with contoured sleeping surfaces that tend to be comfortable for side sleepers who tuck in their arms and hands.
Finally, we considered price and quality. We looked at user reviews to make sure that the manufacturers' claims held up in real life. Our list contains a selection of wedge pillows that are well-constructed and designed to be comfortable for side sleepers.
The 7 Best Wedge Pillows for Side Sleepers
You could spend time reading wedge pillow reviews and looking at each manufacturer's website to figure out which wedge pillow you should buy. But you don't have to! We've done the research to find the best wedge pillows available for side sleepers.
Comfort Wedge Pillow
The Comfort Wedge Pillow is available in both a 9-inch and 12-inch tall version, which makes it easy to find the one that is most comfortable for you. Side sleepers may feel better on the 9-inch wedge. Both sizes are made of a blend of three types of certified memory foam for customized, contoured support. The zippered cover is made of soft bamboo fabric that can be machine washed, and it features a convenient pocket and carrying handle.
The memory foam wedge has a base of solid, sturdy foam, and the top part of the pillow has a 2-inch layer of egg-carton memory foam. This egg carton layer is a cooling blend of two types of foam with a beautiful blue swirl. The natural ventilation in the egg carton shape also helps with temperature regulation.
Bottom Line: This high-quality wedge pillow is easy to care for and features a mix of different types of memory foam that provide solid support for the back and a cloud-like feeling for the head and neck.
Avana Contoured Bed Wedge Pillow
An alternative to wedge pillows with a flat sleeping surface, this model has a contoured design that's made for side sleepers. The ergonomic shape is designed to cradle your upper body and provide a gentler slope that many side sleepers prefer. The 24-inch width fits well on most beds, but some users felt it wasn't wide enough to accommodate their arms in a side-lying position.
The wedge pillow is made of two different types of foam: a dense polyurethane foam base and a top layer of gel-infused memory foam. The removable cover is also designed to reduce heat retention. It's made of breathable Tencel fiber, which stays cool and has a soft feel. The cover zips on and off and is machine washable.
Bottom Line: The contoured design and cooling features of this pillow make it a good option for side sleepers who are willing to spend over $100.
Cushy Form Bed Wedge Pillow
An affordable option made of memory foam, this wedge pillow has a flat sleeping surface and a versatile 30-degree slope. The tallest side of the pillow is 12 inches high, which provides more elevation than some other models and can be a good choice for taller individuals. The high-density memory foam contours around your curves for soft support that eliminates pressure points.
This memory foam pillow has a removable cover that zips on and off. The white cover is machine washable and can be placed in the dryer on low heat. Some reviewers felt that the cover was too thin and required an additional pillowcase on top.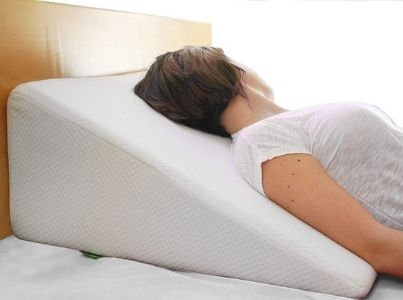 Bottom Line: This basic wedge pillow is a straightforward choice that offers the customized cushioning of memory foam and a washable cover at a good price. The 30-degree slope should be comfortable for most side sleepers.
Copper Fit Angel Ultimate Memory Foam Pillow
This pillow features a much different shape than the traditional wedge but still provides a slightly elevated sleeping surface that can help with posture, snoring, and other sleeping issues. Made of 100% memory foam, this pillow is designed to cushion the head and neck in a way that keeps the spine in proper alignment.
Unlike most other wedge pillows, this one doesn't go under the upper back. However, it's a good choice for side sleepers who aren't comfortable on the inclined shape of triangular wedge pillows. This one also has a concave shape on each side designed to comfortably house your arms and hands.
Bottom Line: A small alternative to traditional triangular wedge pillows, this option provides only slight elevation for the neck and head. However, its contoured design accommodates side sleepers who like to tuck their arms and hands in, and the pure memory foam construction provides soft support.
InteVision Extra Large Bed Wedge Pillow
This wedge pillow is much larger than most other models. It's 30.5 inches wide and 33 inches from front to back with a 12-inch rise. This extra-large size works well on queen and king beds, and it's a good choice for tall individuals. The front-to-back length also makes it easy to adjust your elevation depending on how you position yourself on the pillow.
This two-layer pillow has a firm foam base and a top layer of 2-inch cooling gel-infused memory foam. The removable cover is made of 400 thread count Egyptian cotton. This pillow also includes a half-moon headrest pillow for extra neck support.
Bottom Line: Though the price is higher than most other wedge pillows, this one comes with cooling memory foam, and the extra-large size provides enough room for a variety of sleeping and lounging positions.
Flexicomfort Folding Wedge Pillow
This wedge pillow is actually made of two triangular wedges that can be maneuvered into different positions. With this adjustable design, you can create a taller or shorter wedge pillow depending on which is the most comfortable for you. It's also possible to change the front-to-back length, which affects how steep the slope of the incline is.
This adjustable wedge pillow is made of foam and has a removable cover that's machine washable. The cover has a built-in carrying handle. It also features velcro strips and buttons to secure the two pieces in whichever configuration you decide.
Bottom Line: With multiple possible configurations, this adjustable wedge pillow is a good choice if you aren't sure what height or slope you want. You can also prop it against the wall to read in bed or place it under your knees to reduce lower back pain.
Lenora Adjustable Orthopedic Wedge Pillow Set
This set includes five different components to provide a large degree of customization. There are two different triangular wedges and three other pillows in curved and rounded shapes. Each pillow has a top layer of memory foam and a removable cover of breathable fabric that's machine washable. The bottom side of each pillow cover is made of non-skid fabric designed to keep the pillows from slipping out of place.
The pillow can be used together or separately in many different combinations. Along with creating a comfortable elevated surface for side sleeping, the set can be used for upright reading positions or to keep yourself propped up during recovery from surgery.
Bottom Line: If you're willing to spend almost double what most wedge pillows cost, you can get an entire set of five memory foam pillows that can be configured in many different shapes. This set is a good choice for post-surgery recovery or individuals who want options for reading and watching TV as well as sleeping.
What Is a Wedge Pillow?
A wedge pillow is different from a traditional pillow. Instead of being shaped like a flat rectangle, a wedge pillow is triangular with a slope from the low side to the high side.
How Do Wedge Pillows Work?
Because a wedge pillow has a natural slope, it elevates your head, neck, and shoulders when you use it. Sleeping with your upper body elevated can help reduce the symptoms of many common sleeping difficulties, including obstructive sleep apnea, snoring, and acid reflux. A wedge pillow creates the same sleeping conditions as an adjustable bed at a much lower cost.
How To Choose a Wedge Pillow?
There are many wedge pillows on the market. To find the right one for you, make sure to think about your preferred sleeping position. Softer wedge pillows and those with a gentler incline are usually best for side sleepers.
What To Consider When Purchasing a Wedge Pillow
If you're ready to start shopping for a wedge pillow, it's essential to figure out which factors are most important to you. Here are some things to think about.
Firmness
Most wedge pillows are made of foam, so they tend to be somewhere between medium-firm and extra-firm. You can decide which level of firmness is most comfortable for you. Remember that firmer pillows will provide more support and may last slightly longer. An extra-firm pillow is probably better for a back sleeper than a side sleeper.
If you prefer to sleep on your side, you may be most comfortable with a medium-firm pillow. Look for memory foam that is less dense – the density of the memory foam affects its firmness. Firmer pillows tend to be heavier.
Shape
Wedge pillows are basically triangular. They slope upwards from the base to the tall side. However, there are some variations you can find. Many wedge pillows have a flat sleeping surface, but there are also contoured wedge pillows that have one or more "hills" or curves. These may be more comfortable for side sleepers than flat pillows.
The incline can vary between pillows as well. Some are very tall: a foot high at the back. Others only rise to a height of about 6 inches. Smaller inclines may be best for short individuals and people who exclusively sleep on their sides.
Cost
You can find a good wedge pillow for under $100, but there are also some options that are closer to $120 or more. On the other end of the spectrum, there are some polyfoam pillows that only cost about $40. In general, extremely inexpensive wedge pillows will probably wear out faster and provide less support than those that are made of good-quality memory foam.
Don't forget to take cleaning, maintenance, and replacement into account when you are thinking about the cost. If your pillow doesn't have a washable cover or has poor construction, you may need to spend more money on replacing it frequently.
Materials
You have two foam choices for a wedge pillow: polyurethane foam and memory foam. Polyfoam tends to be less dense and less expensive. It can work well for smaller pillows or if you want something that is on the softer side. Memory foam is denser and more expensive. It's also more comfortable because it conforms to your body and creates a customized sleeping surface.
Don't forget to think about the other materials too: the cover and any features it has, like zippers, buttons, or handles. Paying more for good-quality construction can save you money and hassle.
What Are the Benefits of Wedge Pillows?
Wedge pillows offer many advantages for side sleepers. Here are some benefits of switching to a wedge pillow.
Comfortable lounging
Wedge pillows can make sleeping more comfortable and restorative, but they can also be used for lounging. For example, if you enjoy reading or watching TV in bed, a wedge pillow provides far more support than a traditional pillow. It's also more comfortable than just leaning against the wall or the headboard.
Wedge pillows can also be good for specific situations. They can allow you to sleep in a propped-up position, which is required during recovery from many different types of surgery. They can also allow pregnant women to comfortably sleep on their sides, which is the recommended sleeping position.
Better sleep
For many people, a wedge pillow improves the quality of sleep because it combats sleep-related symptoms of common health problems. Sleeping with your head elevated can significantly reduce snoring, which can improve your sleep and that of your partner if you share a bed. An inclined position can also reduce obstructive sleep apnea and acid reflux, making it easier to fall asleep and stay asleep.
You can also use a wedge pillow behind your back when you sleep on your side. This can prevent you from accidentally rolling onto your back and can provide some additional support to keep your spine in alignment.
Less discomfort
If you find yourself frequently waking up with aches and pains, it could be a sign of sleep problems. Sometimes you may feel tired and sore if you are waking up frequently to change positions or due to acid reflux or sleep apnea. A wedge pillow can reduce or eliminate these issues.
Back pain is often caused by poor sleep posture. If you sleep on your side, this usually means that there isn't enough support for your neck to keep your spine properly aligned from your head down to your shoulders. You may also feel sore from pressure points, particularly in your shoulders. The customized support of a memory foam wedge pillow can reduce those pressure points and improve the quality of your sleep.
What Types of Wedge Pillows Are Best for Side Sleepers?
Some wedge pillows are more suited for side sleepers than others. Here are some things to look for.
Flat vs. Contoured
Most wedge pillows have an inclined sleeping surface that is a single, straight slope. These "flat" wedge pillows are basically triangular, and they work particularly well for back sleepers. However, some side sleepers aren't completely comfortable on a flat wedge, because they don't know where to put their arms and hands.
If you like to keep your arms close or tuck them under your head while sleeping, you may want to consider a contoured wedge pillow. These designs usually have cutouts, curves, or dips in strategic places. This type of contoured design can give you a comfortable place for your shoulders and arms. Some people find contoured designs are easier to sleep on because it's not as easy to slide off or down as it is on a flat wedge.
Memory Foam vs. Polyfoam
Most wedge pillows are made of memory foam. This material gives under pressure and heat, so it forms around your curves to provide soft support. Memory foam is especially good for side sleepers because it can eliminate pressure points on the head, neck, and shoulders. Because memory foam conforms to your unique shape, it can also provide customized support for your body that keeps your spine in the correct alignment while you're sleeping. This type of support can eliminate back and neck discomfort.
Polyfoam pillows can be good for side sleepers too. They usually don't provide as much support, but if you just need a slight bit of elevation and aren't very tall or heavy, you might prefer the softer feel of a polyfoam pillow.
Where Can I Buy a Wedge Pillow?
You can find wedge pillows at many online retailers and at manufacturers' websites. They are also available at many department stores and mattress retailers.
How To Use a Wedge Pillow for Side Sleepers
You should position yourself on the wedge pillow so that your head, neck, and shoulders are elevated. Most people find it comfortable to have the pillow "start" at the mid-to-lower back. It's not a good idea to place just your neck and head on the wedge as you would with a traditional pillow.
Commonly Asked Questions About Wedge Pillows
If you've never had a wedge pillow before, the options may seem overwhelming. Here are expert answers to common questions.
What size wedge pillow is best for side sleepers?
The length and width of a pillow should be a good fit for you and your bed. Many side sleepers prefer a gentle slope, so you may want to choose a pillow that is quite long from front to back. If you have a queen or king bed, look for a pillow that's at least two feet wide.
Are wedge pillows good for side sleepers?
Wedge pillows can be very good for side sleepers. They can help reduce sleep apnea, snoring, and acid reflux. A memory foam wedge pillow can provide customized support that relieves pressure points to reduce neck pain and shoulder soreness.
What is the best height for a wedge pillow?
The answer depends on your physiology, sleeping position, and health conditions. Side sleepers usually prefer a pillow closer to 6 inches tall than 12 inches tall. You may need a higher pillow if you have severe acid reflux.
What is the best wedge pillow on the market?
The best wedge pillow is the one that is most comfortable and supportive for you. You may need a steeper or gentler incline or have a specific firmness preference. However, we think the Comfort Wedge Pillow is a versatile, high-quality option.
Is it bad to sleep on a wedge pillow?
If a wedge pillow makes you uncomfortable or prevents you from sleeping deeply, it's not a good choice. However, most people find that a wedge pillow reduces snoring, acid reflux, and other issues that disrupt sleep.
What is a wedge pillow good for?
A wedge pillow elevates your head and neck and costs far less than an adjustable bed. Sleeping at this inclined angle can reduce snoring, sleep apnea, and acid reflux to improve the overall quality of your sleep. You can also use a wedge pillow to elevate your legs and feet to reduce lower back pain.
How long do wedge pillows last?
You should replace any type of pillow approximately every two to three years. Lower-quality wedge pillows made of polyfoam may need to be replaced sooner.
Can I use a regular pillow instead of a wedge pillow?
Folding a regular pillow or stacking a couple of them on top of each other can elevate your head slightly, but this solution isn't as comfortable or supportive as using a wedge pillow with a smooth, fixed incline.
Are wedge pillows adjustable?
Some wedge pillows are segmented or made of multiple parts that can be configured in different ways. Most of the wedge pillows on the market, however, are a single piece and can't be adjusted.
How do I clean a wedge pillow?
Most wedge pillows are made of foam, which shouldn't be soaked in water or machine washed. Spot cleaning is usually best, though you should always follow the manufacturer's cleaning instructions. Some pillows have removable, washable covers.
How much do wedge pillows cost?
Most high-quality wedge pillows cost approximately $80. However, you can find good options for as little as $40. Some high-end wedge pillows cost over $100.
Does It Matter What Side I Sleep On?
If you're a side sleeper, feel comfortable knowing that the Mayo Clinic and the Sleep Foundation have confirmed that sleeping on your side is beneficial. This position prevents airway collapse and can cut down on snoring.
Sleeping on your left side keeps pressure off the internal organs while promoting healthy blood flow. However, if you suffer from a heart condition, it might be better to sleep on your right side. Sleeping on the left side could cause discomfort for those with heart problems. The recommendation is to sleep on the side that feels best to you.
There may be nights that you're more comfortable sleeping on your right side, but there may be nights here and there that feel better to sleep on the left side. Remember that if it's uncomfortable or gives any pain when you sleep on the left, roll over and sleep on your right side. Your heart will thank you.
Is There a Proper Way to Sleep on Your Side?
There is a proper way to sleep on your side. The Sleep Foundation offers tips on the best way to sleep on your wedge pillow or any pillow when sleeping on your side. You want to ensure your neck is aligned with your upper back so you won't suffer from pressure or neck pain when you wake. The height of your wedge pillow should match the space between your neck and the edge of your shoulder.
You should be in a symmetrical position when sleeping on your side. This sleeping style will support your spine's natural curve to your hips. Sleeping symmetrically should keep the morning aches and pains away.
Here are the steps to follow for a night of side sleeping that will allow you to wake refreshed and pain-free:
You should be on your side with your head on the pillow.
Keep your chin and neck aligned with the center of your shoulders while your shoulders should be in line with your hips.
Look straight ahead with your head forward. Don't tuck your chin toward your neck or twist it.
Keep your arms and hands in alignment. Pretend you're on an amusement park ride: arms and hands inside at all times. So they should be in front of you a bit or by your sides.
For added support, place a small pillow between your knees to help relieve pressure on your hips. This will also keep your knees from falling into one another.
Is There Anything Else I Can Do to Sleep More Comfortably on My Side?
Many people who sleep on their side sleep in the fetal position with their knees tucked up toward their chest, and their legs bent. Be careful not to curl up too tightly, though, since this will only cause breathing difficulties.
When pregnant women side sleep, it's recommended that they place a small pillow under their stomach, between their legs, and even at the small of their back. However, anyone can take these extra precautions. Comfort is the goal, and all these extra places to put pillows will only help alleviate stress on the body, creating a better night's sleep.
If I Switch To Sleeping On My Back, Can I Use the Same Wedge Pillow?
The thickness of your wedge pillow will determine this. A thinner pillow is usually best for back sleepers since you don't want your chin to be pressed toward your chest while sleeping.
What Are Some Reasons Not to Sleep on My Side?
There are two reasons why some people switch from sleeping on their sides to sleeping on their backs. One is wrinkles. When you sleep on your side, you are pressing your face into the pillow, which can cause your skin to compress and become stressed. This process can lead to wrinkles. Another is the increase in existing shoulder pain. When you sleep on your side, you place a lot of extra pressure on your shoulder facing the mattress.
Shoulder pain can be relieved by switching sides periodically or by ensuring your head and neck are aligned with your shoulders. You also want to ensure your mattress is not too soft and your wedge pillow is supportive. That way, you don't sink farther into the bed, putting more pressure on the shoulders.
Why Trust PillowGuide.org?
Our goal is to help our readers find the best products for a better night's sleep. We research user reviews and brand reputation as well as product features before we make our recommendations.