Best Wedge Pillows for Acid Reflux
Acid reflux and heartburn are fairly common issues that make sleeping difficult and uncomfortable. Although most people experience acid reflux occasionally, when it occurs twice a week or more, it's known as GERD (gastroesophageal reflux disease). According to the National Institutes of Health, about 20% of Americans experience GERD at some point in their lives.
Sleeping with your head at an elevated angle can help reduce the symptoms of nighttime acid reflux. The easiest way to change your sleeping position is with a wedge pillow.
How Does a Wedge Pillow Help With Acid Reflux?
The burning pain of acid reflux is caused by stomach acid and food pushing up from the stomach into the esophagus. This can be especially common at night because gravity isn't keeping the acid in your stomach like it does when you are sitting or standing up.
You can change your sleeping position so that it's harder for food and acid to travel upward into your esophagus. Doctors recommend raising the head of your bed by about 6 to 8 inches to reduce acid reflux. If you don't have an adjustable bed, a wedge-shaped pillow can elevate your head and shoulders to this ideal position.
How We Chose the Best Wedge Pillows for Acid Reflux
When we began looking for the best wedge pillows to help with acid reflux, we took several different factors into consideration. We wanted to find pillows that would work for both side and back sleepers and for people of different heights and weights.
We also looked for wedge pillow reviews to find products that had excellent ratings from experts and from users. Some key points we focused on were comfort, durability, ease of maintenance, and price. We also looked for some adjustable models that make it easy to customize your sleeping surface.
There are many wedge pillow varieties, and we wanted to highlight several unique options so you can find the one that meets your needs. We looked at pillows with different types of covers, materials, and sizes.
After doing a lot of research, we narrowed our list down to the top options that were cost-efficient, comfortable, and durable. Read on to find the best wedge pillows for acid reflux.
The 8 Best Wedge Pillows for Acid Reflux
Looking for the best wedge pillow to relieve acid reflux symptoms? Find your perfect fit in our list of recommended options.
Comfort Wedge Pillow
The Comfort Wedge Pillow comes in two sizes: 9 inches tall and 12 inches tall. This premium wedge pillow is made of three different types of certified memory foam to create the perfect amount of firmness for each area of the body. The top of the pillow cradles the head and neck with egg-carton memory foam, while the lower portion provides firm back support with flat foam.
Designed in the USA, this pillow includes top-quality details like a YKK zipper and a convenient side pocket on the cover. The bamboo fabric cover is also easy to remove and clean in the washing machine.
Bottom Line: With an affordable price point and innovative three-zoned design, this top-quality memory foam pillow provides a customized level of support and a ventilated egg-crate pattern that is soft, cushy, and temperature-regulating.
AllSett Health Bed Wedge Pillow
This wedge pillow can be folded, so it's easy to customize the shape to one that is most comfortable for you. Made of breathable memory foam with a zippered, removable cover, this pillow is easy to keep clean. The cover is made of plush gray polyester and features a useful carrying handle.
This foldable wedge pillow includes two attached triangular pieces. They can be folded into seven different shapes to provide a range of options for sleeping or sitting. Choose a gentle 30-degree incline for sleeping or a steeper 60-degree one to sit and read. You can also use the pillow under your knees, legs, or feet. There are attachable straps that will keep the two pieces secure in whichever folded position you choose.
Bottom Line: This affordable memory foam wedge pillow has a unique two-piece design that can be folded seven different ways to provide a range of incline options to support the head, back, knees, or feet.
HEALTHEX Bed Wedge Pillow
Designed to address a wide range of sleeping issues, from acid reflux to snoring, this wedge pillow is made of two types of memory foam. The base is crafted of high-density memory foam for firm support, and there is a 1.5-inch top layer of cooling gel memory foam designed for ultimate comfort and heat reduction.
The 10-inch height provides a 30-degree incline that can work well for side sleepers and back sleepers. It can also be placed under the knees or feet to address lower back pain and circulation issues. This wedge pillow is 25 inches wide, which is larger than most pillows and can be good for people who change positions a lot during the night.
Bottom Line: This wedge pillow has a versatile incline and a removable, machine-washable cover, and it includes a layer of gel-infused cooling memory foam over the solid memory foam base for maximum comfort.
HealthSmart DMI Wedge Pillow
At a shorter height of 7 inches tall, this wedge pillow has a gentler slope than taller models. It's great for people who don't want to sleep at a high incline or for those who just want a little extra support when sitting up to watch TV or read. It can even work for children who need extra support for their heads or legs.
The pillow is made of high-density polyfoam and weighs just 1 pound, so it's easy to move around the house for use on the bed or couch. The affordable polyfoam wedge has a zippered poly-cotton cover that can be cleaned in a washing machine.
Bottom Line: A low-priced wedge pillow made of polyfoam, this option is a great way to find out if you like the feeling of sleeping in an elevated position. Its lightweight design is easy to move to different locations, and the removable cover is machine washable.
Kölbs Extra Wide Bed Wedge Pillow
This memory foam wedge pillow is 31 inches wide - half the width of a queen bed and far bigger than most other brands. This size makes it easy to stay on the pillow even if you are an active sleeper who switches between sleeping on your back and sleeping on your side. The wedge has two layers. The main support comes from a high-density base, and there is a plush top layer of memory foam that's 1.5 inches tall.
This extra wide pillow is available in two different heights: 7.5 inches tall and 12 inches tall. Both models feature a two-tone gray and white jacquard pillowcase that covers the foam wedge. This removable cover is machine washable.
Bottom Line: If you're looking for a wedge pillow that's big enough for lounging, reading, and sleeping in different positions, this is a great option with a washable cover that looks like high-quality bedding and a top layer of plush memory foam.
Brentwood Home Zuma Wedge Pillow
There are three different models of this pillow available: 7-inch, 10-inch, and 12-inch. All sizes are available at very affordable prices. The taller sizes can work well for back sleepers or tall individuals who need a highly elevated surface for snoring relief or help with acid reflux. The smaller 7-inch wedge pillow can be a good choice for side sleepers and those who prefer a gentler incline.
This wedge pillow is made of therapeutic foam with a stretchy knit cover of bamboo fabric. The cover is removable and can go in the washing machine. It's designed and manufactured in the United States.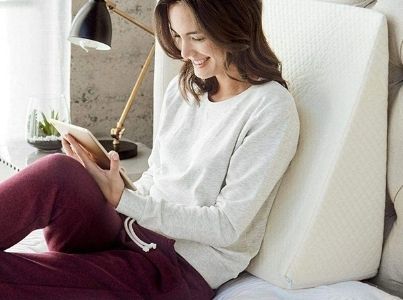 Bottom Line: An affordable wedge pillow made of therapeutic foam, this product comes in three different heights and provides extra-firm support that can be very helpful for GERD and severe snoring but may be uncomfortable for some people. It's designed and made in the U.S.
ONDEKT Adjustable Pillow
Another model that features a two-piece design, this one has an extra-firm larger wedge that's connected to a smaller wedge. Both feature a 1.5-inch layer of cooling gel memory foam. The two can fold in different ways to create shapes that are taller or shorter. You can also change the front-to-back length, which can be helpful if you are very tall or very short.
This adjustable pillow has a removable polyester cover that's easy to clean in the washing machine. The cover also has velcro straps that secure the two pieces into whichever configuration you choose. There is an integrated carrying handle that makes moving and storage simple.
Bottom Line: An affordable wedge pillow that's foldable into different shapes, this is a versatile option for people who sleep in multiple positions and need to change the incline for comfort or help with acid reflux, snoring, or other issues.
Relax Support 3-in-1 Wedge Pillow
This adjustable pillow is actually a set of three pillows that can be used together or separately. There are two traditional wedges: 4.5 inches and 7.5 inches tall. They can zip together to create a tall 12-inch wedge pillow, or you can use either one separately. The set also includes a half-moon headrest pillow for more neck support.
All the pillows are made of high-quality memory foam that adjusts to your body. Each one has a removable and washable cover. Because the pillows are all separate pieces, you can use them individually. For example, you can use one to elevate your head and another one to support your knees and calves.
Bottom Line: With three separate pieces that all feature memory foam, this set makes it easy to find a sleeping position that's supported and comfortable, and the two different wedges offer multiple height options for side and back sleepers.
What Is a Wedge Pillow?
A wedge pillow is a triangular pillow with a flat base and a top that slopes upward from the shortest side to the tallest. Most wedge pillows are made of foam designed to provide a high level of support. While some wedge pillows have multiple pieces or are segmented so they can be positioned in different shapes, most of them are a single piece.
How Do Wedge Pillows Work?
A wedge pillow creates an upward slope for you to sleep on so your head, neck, shoulders are elevated above the rest of your body. Keeping your head and neck at a higher level allows gravity to work in your favor, discouraging stomach acid from moving upward into your esophagus. This shape can reduce or eliminate the discomfort of acid reflux.
What Is Acid Reflux?
Acid reflux is when the contents of the stomach, including digestive acid, flow upward into the esophagus, irritating the sensitive lining. Common symptoms of acid reflux are a burning sensation in the chest and/or throat and the taste of acid in the back of the mouth.
What Causes Acid Reflux?
While GERD refers to a condition where acid reflux happens multiple times per week, most people experience this issue occasionally. There are several things that can cause or worsen acid reflux.
Spicy, fatty, or acidic foods
Foods that have a high level of fat (e.g. french fries) or acid (e.g. tomatoes) can cause acid reflux and its associated symptom, heartburn. Spicy foods can also have this effect, especially if they are consumed close to bedtime. Some people find that alcohol and carbonated beverages also contribute to acid reflux.
Overeating
Consuming large meals or eating to the point of extreme fullness can frequently cause heartburn and acid reflux. Additionally, overeating consistently can cause weight gain, which itself can lead to more severe or more frequent acid reflux. Losing weight and eating smaller meals can help reduce the symptoms of GERD.
Restrictive clothing
Some people find that wearing tight clothing, especially around the waist, torso, and neck, can contribute to acid reflux. Switching to looser clothing, especially in the evening and at night, can lessen the frequency and severity of acid reflux. Relaxed-fit tops and pants with an elastic waist may be less likely to contribute to heartburn.
How To Choose a Wedge Pillow for Acid Reflux
When you're looking for a wedge pillow for acid reflux, make sure to consider your personal sleeping preferences. Think about whether you'd prefer softer or firmer support. Wedge pillows come in different sizes and slopes, so decide how much elevation you want to add to the top of your bed. Don't forget to think about the length and width too – some large wedge pillows may not fit well on smaller beds.
What To Consider When Purchasing a Wedge Pillow
Deciding which acid reflux pillow to choose can feel overwhelming, but it's easier when you focus on a few key aspects. Here are some important factors to consider.
Shape and incline
By definition, a wedge pillow has a sloped, triangular shape. However, there are variations in this basic design. Many pillows have a completely flat sleeping surface, but others have curves and contours. These designs are usually created to alleviate common sleep-related pressure points in the shoulders and neck.
Some pillows have a sharper or flatter incline. You can find pillows with a slope angle of about 30 degrees whereas others that are much steeper: around 45 degrees. Pillows with a steeper incline are usually closer to a foot tall. On the other side of the spectrum, some wedge pillows are only about 6 inches high on the tall side. For acid reflux, it's good to look for a mid-range slope.
Size and weight
Most wedge pillows are approximately the same size in length and width. Generally, these dimensions are about 20 inches to 24 inches. This is larger than some traditional flat pillows. If you have a twin or full-sized bed, you may need to find a smaller wedge pillow. Look for an option on the larger side if you want to use it for reading or sitting up in bed.
Wedge pillows also vary in weight. The weight depends on the density of the foam – denser foam is heavier. If you are an active sleeper and want to make sure your pillow stays in place, look for a heavier one. A lighter pillow is better if you plan to use it in different places.
Firmness and pressure relief
Because wedge pillows are usually made of either polyfoam or memory foam, they are more firm than down or down-alternative pillows. You can find wedge pillows in medium-firm to firm styles. In general, firmer pillows are better for people who sleep on their backs. You should also choose a firm wedge pillow if you plan to put it under your knees or feet to help with lower back pain.
Some people prefer the comfortable feeling of a less-firm pillow. It's better to choose a softer pillow if you sleep on your side. Medium-firm pillows are also less likely to cause pressure points than firmer pillows are.
Cost and durability
Price is one of the most important factors when purchasing a pillow. Most wedge pillows cost somewhere between $50 and $100. In general, higher-quality products cost more, but that doesn't necessarily mean you have to purchase something at the top of the price range. Memory foam also tends to be more expensive than polyfoam.
Look at reviews for the pillows you are considering to see what others have to say. You want to find something that is durable and stands up to daily use. Some less-expensive pillows may work well for a while, but you might need to replace them sooner if the foam stops providing adequate support.
What Are the Benefits of Wedge Pillows?
While they can provide relief from acid reflux, wedge pillows offer many additional advantages. Here are some of the benefits you can expect from switching to a wedge pillow.
Better sleep
It's easier to sleep if you aren't dealing with painful heartburn, but a wedge pillow can address other causes of poor sleep as well. Many people find that elevating the top part of their body during sleep can reduce snoring and sleep apnea symptoms. Eliminating snoring and sleep apnea can be an extra benefit for those who share their bed with a partner, because it can help the other person sleep better too.
If you have trouble sleeping due to swelling in your legs and a feeling of pressure in your legs, it may be due to poor circulation. Using the wedge pillow under your knees or feet can help improve circulation, reducing the risk of blood clots and painful symptoms of varicose veins.
Reduced pain
Many people experience mild to severe pain in their back, shoulders, neck, and hips when sleeping. A wedge pillow can significantly reduce these unpleasant feelings by helping to align the spine properly in a good and healthy sleep posture.
A memory foam wedge pillow can be especially helpful if you have shoulder and neck pain because the material conforms to your unique body shape, so it creates customized support that relieves pressure. Look for a less-firm pillow if you tend to sleep on your side. If you have pain in your lower back, try placing a smaller wedge pillow under your knees to reduce pressure on your lumbar spine.
Improved comfort
A wedge pillow isn't just helpful for sleeping. It's a versatile accessory that can make lots of other situations more comfortable. For example, if you enjoy reading or watching TV in bed, you can prop yourself up on a wedge pillow. This is much more comfortable than just resting your back on the wall or headboard, and it offers far more support than a traditional pillow.
Wedge pillows can also be extremely helpful for pregnant women. Pregnancy can make sleeping difficult and cause pain and soreness in many areas of the body. With a wedge pillow, it's easier for women to sleep on their sides, which is the recommended position during pregnancy.
What Types of Wedge Pillows Are Best for Acid Reflux?
Wedge pillows come in different shapes and materials. Here are some of the best options when you want a pillow to help with acid reflux.
Memory Foam
An adaptive substance that conforms with heat and pressure, memory foam is a great option for a wedge pillow. In fact, most of the wedge pillows on the market are made of memory foam. This material is designed to give under pressure, so it contours around your unique curves to create a supportive surface without pressure points.
Many people enjoy the cushiony feeling of memory foam, and it tends to be relatively durable. However, it can also trap heat. If you're a hot sleeper and want a memory foam pillow, look for one with a cooling cover or integrated ventilation.
Contoured
Wedge pillows are available in both flat and contoured shapes. While both types follow the basic tapered, triangular shape, some models have a contoured surface instead of a flat one. The curved surface of a contoured pillow makes it the best choice for side sleepers because it conforms nicely to the curves of the neck and shoulders of a person lying on their side.
A contoured wedge pillow helps reduce the neck and shoulder pressure points that commonly affect side sleepers. The curved shape also prevents the pillow or bed surface from pushing the spine out of alignment. Keeping the spine aligned properly during sleep can prevent pain, soreness, and some long-term health issues.
Polyfoam
There are many wedge pillows that are made of polyurethane foam instead of memory foam. This material is less expensive than memory foam, so it's a good choice for people who want a more affordable wedge pillow.
Polyfoam comes in a wide range of firmness and density, so it's fairly easy to find a pillow that matches your comfort preferences. Polyfoam tends to return to its original shape faster than memory foam, so it's a better choice for people who change positions often in their sleep.
Like memory foam, polyfoam can tend to trap heat. If you sleep hot, look for a foam wedge pillow that includes cooling material in the cover or has other heat-reduction features.
What Size Wedge Pillow Should I Buy?
The best size wedge pillow for you depends on your comfort level. Many people sleep on pillows so soft that they cause neck pain. The transition to a firm wedge pillow might seem like a big adjustment, but you'll feel better in the long run. Your neck and spine will adjust to the incline, and you'll never return to using a soft, flat pillow again.
For best results, buy a wedge pillow with an incline of at least seven inches. This measurement provides a steady yet comfortable incline that gives any sleeper a good night's rest. Seven inches isn't too high, so you won't feel like you're sitting up while you sleep. Still, it provides a gentle incline that keeps the acid down to prevent acid reflux overnight.
That size pillow is enough to alleviate back and neck pressure as well. Low wedge pillows range from six to eight inches, so you're sure to find the right size to start your acid reflux resolution.
Not all wedge pillows use inches for measurements. Some have degrees listed for the incline. Knowing that wedge pillows typically range from 6 to 12 inches or 30 to 45 degrees can help you mentally calculate the sizes.
Wedge pillow sizes also impact the space on your bed. They're usually 20 to 24 inches long and wide, which is larger than your average pillow. If you have a twin or full mattress, you might find that a wedge pillow takes up more room than you expected. You can look for wedge pillows with smaller dimensions as long as the incline remains tall enough to reduce your acid reflux.
The size of a wedge pillow can also impact its weight, but it's not the primary factor. As previously mentioned, the material used changes how much the wedge weighs. Memory foam is heavier than polyfoam, for instance, though you can choose different densities of polyfoam. Check the specs for the pillow's weight before you buy it.
How Else Do Wedge Pillows Help?
Wedge pillows help with other sleep problems and health concerns. The incline of the wedge pillow sets you upright enough to prevent snoring, which can disrupt your sleep and your partner's rest.
Just as a wedge pillow keeps acid down while you're sleeping, it can also help your sinuses properly drain. Sleeping on an incline allows your body to promote sinus drainage and prevent sinus infections naturally.
If you experience back pain while sleeping, you'll benefit from a wedge pillow. The incline is enough to alleviate the pressure you put on your lower back, shoulders, and neck while you're sleeping.
Pregnant women also appreciate the gentle incline of a wedge pillow. As they often experience indigestion and heartburn, sleeping at a slight angle reduces the likelihood of this discomfort. It also helps them sleep on their sides without rolling over on their backs or stomachs.
You can use low incline wedge pillows under your knees when relaxing or sleeping. Putting a wedge pillow beneath your legs will improve circulation by elevating your feet above your heart. If you sleep on your side, you can put a wedge pillow between your knees to prevent discomfort from the bones rubbing together.
Many people don't realize that lying flat when you sleep also applies pressure to your eyes. Using a wedge pillow can reduce your risk of glaucoma by alleviating eye pressure throughout the night.
How To Tell if Your Wedge Pillow Makes a Difference
You'll be able to tell if your wedge pillow makes a difference the first night you use it. Because you're elevating your shoulders, you're keeping the acid down. You won't have difficulty sleeping due to acid reflux or GERD because of your body's position.
You'll also notice that your lower back, neck, and shoulders feel better. Sleeping at an incline relieves pressure on the spine. You'll get better sleep because you won't constantly shift in your sleep, contorting your spine into painful positions.

As wedge pillows also reduce snoring, you'll be able to breathe freely all night long. You won't snore yourself awake or have a dry mouth in the morning. Getting a full night's rest without pain will make you feel like a new person the next day.
Where Can I Buy a Wedge Pillow?
Wedge pillows are relatively easy to find in physical stores and online. The internet makes it easy to purchase wedge pillows directly from manufacturers.
Commonly Asked Questions About Wedge Pillows
There are a lot of wedge pillows on the market, and it's not always easy to find the information you need to know. Here are some reliable answers to the most common questions we get about wedge pillows.
What size wedge pillow is best for acid reflux?
When choosing a wedge pillow for acid reflux, you want to consider your sleeping position and the size of your bed along with the incline. Most wedge pillows are about 20 and 24 inches in width and length, which provides a good incline and can accommodate side and back sleepers.
Is it healthy to sleep on a wedge pillow?
Yes. There are many benefits to sleeping on a wedge pillow. This type of pillow can help reduce acid reflux and relieve pressure on the neck and back. If you aren't sure what type of pillow is best for you, talk to your medical provider.
How much should a bed be elevated for acid reflux?
Elevating the head of the bed can help reduce acid reflux. It's best to increase the height by about 6 to 8 inches for best results. Another way to think about it is to elevate your head by about 35 to 45 degrees.
How do you prop a pillow for acid reflux?
Trying to prop up a traditional pillow to help with acid reflux is not the best solution. Even if you stack several standard rectangular pillows on top of one another to elevate your head, they will likely shift during the night and stop providing adequate support.
What is the best height for a wedge pillow for acid reflux?
Experts recommend elevating your head approximately 6 and 8 inches, or between 35 and 45 degrees, to help with acid reflux. So a wedge pillow should be between 6 inches and 12 inches tall at the highest point, depending on its width.
How much do wedge pillows cost?
The price range for most wedge pillows is $50 to $100. The exact cost will vary depending on the size, materials, brand, and construction. For example, high-quality memory foam pillows are usually more expensive than those made with low-density polyfoam.
How do I clean a wedge pillow?
The answer depends on the material and design of your wedge pillow. Some have removable covers that are washable and others must be spot cleaned. Foam pillows shouldn't be washed or soaked in water. It's always best to follow the manufacturer's cleaning instructions.
How long do wedge pillows last?
In most cases, wedge pillows should be replaced every three years. The lifespan of a wedge pillow depends on the quality of the materials and the construction. Usage can also affect longevity, so if you use your pillow lot, you may need to replace it sooner.
Are wedge pillows adjustable?
There are some wedge pillows that are adjustable. Most of these have several different components or are foldable so you can create a steeper or shallower incline. Although most wedge pillows on the market aren't customizable, you can still find adjustable wedge pillows from some providers.
What is a wedge pillow good for?
Wedge pillows can help with a variety of health and sleep issues, including snoring, sleep apnea, back pain, poor circulation, acid reflux, and asthma. They may also be recommended to pregnant women or individuals recovering from certain types of surgery.
Why Trust PillowGuide.org?
Our goal is to offer the very best advice to our readers. We thoroughly research every product before recommending it and read reviews from real users and experts. We also take into account brand reputation and quality, so you can be sure our recommended products are the best options on the market.